Bright Lights: Tour for Diversity in Medicine with Drs. Kameron Matthews & Alden Landry
August 19, 2020
Michelle Higginson
---
Bright Lights is an ongoing series that highlights the activities, causes, and passions that fall outside of Inlightened Experts' dedicated day jobs, and truly set them apart. These initiatives represent experts' abilities to transform their interests and experience into meaningful ventures that drive positive change. The inaugural installment of Bright Lights features Kameron Matthews, MD, JD, FAAFP, Alden Landry, MD, MPH, and Tour for Diversity in Medicine (T4D), the nonprofit organization they co-founded to promote careers in healthcare to underrepresented minorities. 
How did Tour for Diversity in Medicine (T4D) come to be? What problem were you trying to solve? Take us from idea to execution.
We were leaders with Student National Medical Association (SNMA), a national organization focused on supporting current and future underrepresented minority medical students. The need to reach these students even earlier — and with broader outreach —  was becoming increasingly apparent to us. So we started working on the idea in 2005, while we were still in medical school.
The idea was that, in order to truly evaluate and feel motivated to consider a future in healthcare, students — specifically from disadvantaged communities of color — needed to engage with people they could  find commonality with. The earlier, the better. We wanted to challenge the status quo for individuals who didn't fit the traditional pre-med mold. Whether they struggled with tuition concerns, were discouraged by advisors, or simply thought their aspirations were out of reach, we made it our job to help them understand that every candidate comes with their own set of experiences, and theirs are as valid as anyone else's.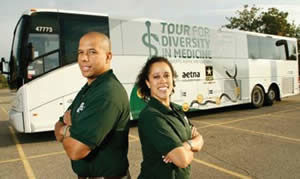 We secured funding, and embarked on our first tour to reach this broader audience in 2012. We chartered a bus, recruited a group of young practicing physicians, dentists, and pre-med advisors, and partnered with a number of campuses to deliver pre-med enrichment programs.
Can you provide a brief overview of T4D's mission?
We are sharing our stories through pre-medical enrichment and exposure — and ample logistical information and support — to educate, inspire, and cultivate future minority physicians and dentists.
Tell us more about T4D's target audience.
T4D focuses on underrepresented minorities in medicine — specifically Black, Latinx, and Native American students — and other disadvantaged groups, such as community college students. The students who are up against the most challenges are typically those who end up making the biggest impact through a career in healthcare. Given the odds against them, they possess a unique ability to persevere, manage their time, multitask, work, and stay motivated. They are mature beyond their years, financially prudent, and those who come from disadvantaged or rural communities typically return to those communities to deliver care. When we talk about eradicating disparities in healthcare, these are the students who will truly make a difference. And they need to be mobilized to consider a career in medicine.
What key milestones has T4D accomplished to date?
Established group of 30 mentors, and travel with 10-12 on any given trip.

Reached more than 27 states nationwide.

Mentored 3,500 students in person, and an additional 1,400 through our first-ever virtual tour, which took place this past April during the COVID-19 pandemic.

Partnered with the National Association of Advisors for the Health Professions (NAAHP), Association of American Medical Colleges, and other important organizations. 
Can you share an example of someone whose life has been changed through working with T4D?
Many of our voices of diversity could share a similar story, but this one is about one of our mentors who is an established physician, administrator, and entrepreneur. She was told by her college advisor that she wasn't smart enough to be a doctor. So she listened, and went into another field. Unhappy with that path, she decided to go back to school, and worked incredibly hard to eventually become the full-fledged physician entrepreneur she is today. Now she's dedicated to paying it forward and supporting, rather than discouraging, other healthcare hopefuls.
Advisors are not created equal, but they are all in a position to influence. And those who act as gatekeepers abuse their power by focusing on what students can't do, versus what they can. To think you can rule out an entire field to a young individual with the world ahead of them is not doing anyone a service. There are incredible advisors out there as well — many of whom we have the privilege of working with — but the work we are doing is to go beyond advisory. We are mentoring, role modeling, and banishing imposter syndrome.
How can people get involved?
Most students find T4D through our Facebook, Twitter, YouTube, and Instagram. Our mentors volunteer their time, and our programs are free of charge.
Kameron Matthews, MD, JD, FAAFP, is a board-certified family medicine physician and serves as the U.S. Department of Veterans Affairs' Assistant Under Secretary for Health for Community Care. A clinician, attorney, advocate, administrator, and academic, Dr. Matthews focuses on social determinants of health and policy issues that impact underserved patient populations, and is specifically dedicated to improving care quality, access, and disparities. Dr. Matthews is a leader in quality and workforce diversity and sits on the board of directors for the National Quality Forum (NQF), the advisory board of the National Minority Quality Forum, and the Diversity and Inclusion Committee of the Accreditation Council for Graduate Medical Education. She has received multiple honors, including being recognized with 2017 National Minority Quality Forum 40 Under 40 Leader in Minority Health and 2015 National Medical Association Council for the Concerns of Women Physicians Emerging Trailblazer Awards.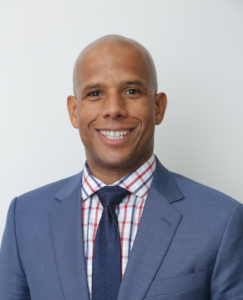 Alden Landry, MD, MPH, is an Ivy League educated and board-certified emergency medicine physician at Beth Israel Deaconess Medical Center. His clinical work and research focus on emergency department utilization trends, quality, disparities in care, patient-doctor communication, health equity education, and caring for high-risk patients and vulnerable populations. Dr. Landry is a faculty member at Massachusetts General Hospital's Disparities Solutions Center and Harvard Medical School, Assistant Dean of the Office for Diversity Inclusion and Community Partnership, and Associate Director and Advisor of the Castle Society. A leader in workforce diversity, his dedication to health equity education and mentorship is further demonstrated by his ongoing collaborations with AAMC, ADEA and NMQF, and was recognized with the Disparities Solutions Center/Aetna Fellow in Health Disparities award.
---
August 19, 2020
Michelle Higginson