Healthcare innovation: 3 essential exercises to drive responsible disruption in a highly-regulated industry
February 25, 2021
Michelle Higginson
---
In healthcare — and in other similarly complex, highly-regulated industries — innovations are far more likely to fail than succeed. In fact, healthcare innovations are 96% likely to fail. For those that don't, it takes an average of 17 years to drive widespread adoption.
So what separates the winners from losers? The answer isn't simple. To begin understanding how some firms overcome challenges, gain competitive advantage, and thrive, we examined a few widely-embraced frameworks and principles, and outline three essential exercises to driving responsible disruption in healthcare.
Healthcare innovation lifecycle
Naomi Fried, PhD, is no stranger to the challenges of healthcare innovation. Having served as the first Chief Innovation Officer at Boston Children's Hospital and VP of Advanced Technology at Kaiser Permanente prior to her current role as CEO of Health Innovation Strategies and co-founder of Ambit Health Ventures, she was well-suited to develop the following healthcare innovation lifecycle framework.

Fried's "operationalization gap" refers to the challenge of driving adoption, and diffusing a new idea across an organization. The larger and more hierarchical the organization, the wider the "o-gap". Leaders can leverage this lifecycle in order to be more effective — and develop programmatic support — but this of course takes time, effort, planning, and patience. "Regulated industries need time to adapt, and they need to understand innovation, its risks and benefits. Don't get discouraged when there are setbacks." 
Processes, phases, methodologies, and more
Most innovation processes refer to three key phases — discovery, development, and commercialization — that organizations cycle through. "The more complex a product gets in a regulated industry, the more complex the innovation process gets."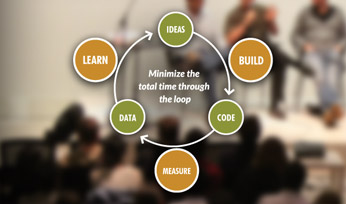 The Lean Startup methodology focuses on building (turning ideas into products or services), measuring customer response, and learning whether to pivot or persevere. While this approach stresses speed to market in order to accelerate the feedback loop, we must remember that "moving fast and breaking things" isn't how healthcare works; there's too much at stake.
3 essential exercises
No matter the size or stage of your organization, or whether you're piloting a new product or adjusting an existing service or offering, we recommend healthcare innovators leverage these three key practices to disrupt responsibly. 
1. Understand — and embrace — your why
Any innovation starts by identifying the reason why. What problem are you setting out to solve? What's the opportunity? Who belongs to the audience you are ultimately aiming to help? It is essential to think through a concept or idea in detail, and begin crafting the story you want to tell, as your very first step, before you can even consider approaching due diligence and validation.
Is your mission likely to evolve over time? Yes. Are you going to successfully engage the insights needed to drive that evolution, and ultimately validate what you're trying to do, if you can't articulate why? Absolutely not.
Being too close to a project can thwart one's objectivity. An external expert's perspective helps uncover overlooked opportunities, and contributes to collaborative problem-solving and solution development. It is critical for healthcare innovators to involve clinicians — and patients — early in the development of their solutions to help articulate how they should function, integrate into clinical practice, and impact patient care. Healthcare products and services designed and developed around such input often avoid missteps driven by a lack of understanding of clinical settings, provider adoption, and patient behavior.
Above all else, it is diverse representation that helps drive development of viable solutions that meet patients' and providers' needs. Diversity unlocks innovation, drives growth, stimulates novel thinking, and improves outcomes. Representation matters, and not only underlies the difference in the way we approach problems, but also answer key questions about potential applications such as how broadly it could be employed, how it may fit into a workflow, and what patient populations might be best served. Innovators who don't source diverse expert and patient perspectives risk building bias into their solutions.
3. Evangelize to commercialize
Innovation isn't a one-time activity, it's a continuous process. Specialists — clinical, commercialization, regulatory, and countless others — need to be continuously engaged throughout the innovation lifecycle, for their tailored expertise to the various types of challenges faced along the way. The value of stakeholders who are not only engaged, but bought-in, is priceless to scaling a venture.
Subject matter experts (SMEs) and key opinion leaders (KOLs) understand nuances and challenges of specific market sectors, and can provide guidance on how to navigate effectively. This guidance is crucial in understanding the curve, affecting the pace, and ultimately driving adoption.

---
February 25, 2021
Michelle Higginson