Bright Lights: Doctors for Health Innovation with Dr. Yatin Patil
April 19, 2021
Michelle Higginson
---
Bright Lights is an ongoing series that highlights the activities, causes, and passions that fall outside of Inlightened Experts' dedicated day jobs, and truly set them apart. These initiatives represent experts' abilities to transform their interests and experience into meaningful ventures that drive positive change. This installment of Bright Lights features Yatin Patil, MD, FACP, and Doctors for Health Innovation (D4HI), a community of physicians and innovators redefining the future of healthcare through investment and collaboration.
How did Doctors for Health Innovation (D4HI) come to be? What problem were you trying to solve? Take us from idea to execution.
There are two problems we set out to solve:
First, we want to promote innovation in healthcare. My previous work involved a lot of traveling, and working for various healthcare organizations across different states. I got direct exposure to the problems that physicians and healthcare organizations face nationwide, in being able to provide high quality, timely, efficient, and cost-effective care to the communities they serve. Through my interactions with healthcare startups outside of work, I saw some of the innovative solutions that could address some of these issues. However, despite the existence of these solutions, they did not seem to make it into daily clinical practice. That is where the idea of getting involved in supporting these healthcare startups came about. It started initially as an angel investor group, and has led to D4HI and our physician-focused venture capital fund, D4HI Ventures Fund 2021. 

Second, we are lowering the barriers to entry for physicians to get involved in this process. By reducing the minimum capital contribution to $25,000 and eliminating capital calls, we have made venture capital investment easily accessible to our team.
Can you provide a brief overview of D4HI's mission?
D4HI's mission is to build a community of engaged physicians and innovators and encourage collaboration to help the ideas and solutions that improve healthcare outcomes come to fruition. 
Physicians have the ability to truly understand the impact of the solutions being developed. They need to be involved early on in the development process to help refine the solutions to fit in with their workflow, address the problem in the right manner and build the initial traction.
Tell us more about D4HI's target audience.
Our target audience is physicians, who wish to support innovative startups and solutions through advisory and investment, as well as entrepreneurs and innovators, who are looking for support and capital from an engaged physician community.
What key milestones has D4HI's accomplished to date?
Our physician-focused VC fund, D4HI Ventures Fund 2021 LP, admitted the first group of physician investors as of April 1st, 2021.

We are in the process of deploying the capital in five high-growth healthcare startups.
Can you share an example of someone whose life has changed through working with D4HI?
While our fund has just recently launched, by making significant investments into these startups, we have enabled the founders to focus on their respective innovations rather than spending time on sourcing capital. We look forward to supporting what's next for them.
How can people get involved?
Physicians, entrepreneurs, and startups can check out our website, join our network, and share information with their colleagues. They can also email us.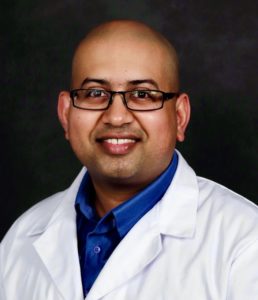 Yatin Patil, MD, FACP, is a board-certified internal medicine physician and hospitalist. Having practiced and held various administrative leadership roles in affiliation with Apogee Physicians, Dr. Patil has been instrumental in the establishment of new hospitalist programs in several states across the nation. He specializes in collaboratively bridging the gap between medicine and technology, and is known for his unique ability to support an institution's adoption of new technologies and techniques into practice. The CEO and Co-Founder of Mission Growth Investments, LLC, and Managing Partner of Doctors for Health Innovation (D4HI) Ventures Fund 2021, Dr. Patil is also an entrepreneurial-minded angel investor. He is passionate about partnering with early-stage healthcare startups to develop, pilot, and launch innovations — from telehealth platforms to medical devices — devised to improve the future of care.
---
April 19, 2021
Michelle Higginson