Inlightened certified by the Women's Business Enterprise National Council (WBENC)
October 7, 2021
Michelle Higginson
---
Inlightened, a SaaS marketplace of curated, vetted, and engaged clinicians and healthcare professionals, is proud to announce national certification as a Women's Business Enterprise by the Center for Women & Enterprise, a regional certifying partner of the Women's Business Enterprise National Council (WBENC).
"We founded Inlightened to bridge the knowledge gap in healthcare innovation, seamlessly," said Shelli Pavone, Inlightened CEO and Co-Founder. "Advancements in healthcare do not impact everyone equally, but by democratizing access to diverse, quality expertise, we are making a concerted effort to change that. As a diverse supplier, we look forward to supporting industry partners who are solving healthcare's most pressing problems."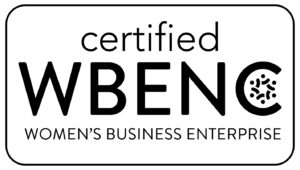 The WBENC standard of certification implemented by the Center for Women & Enterprise is a meticulous process including an in-depth review of the business and site inspection. The certification process is designed to confirm the business is at least 51% owned, operated, and controlled by a woman or women.
By including women-owned businesses among their suppliers, corporations and government agencies demonstrate their commitment to fostering diversity and the continued development of their supplier diversity programs.
About WBENC:
Founded in 1997, WBENC is the nation's leader in women's business development and the leading third-party certifier of businesses owned and operated by women, with more than 17,000 certified Women's Business Enterprises, 14 national Regional Partner Organizations, and more than 350 Corporate Members. More than 1,000 corporations representing America's most prestigious brands as well as many states, cities, and other entities accept WBENC Certification. For more information, visit www.wbenc.org.
---
October 7, 2021
Michelle Higginson