A guiding light in global health
February 28, 2022
Michelle Higginson
---
Last week, the world lost a world-renowned physician, anthropologist, author, and advocate. When Paul Farmer, MD, PhD, was a medical student, he decided to build a clinic in Haiti. It grew into a vast network striving to make healthcare a human right for all, starting with those who need it most.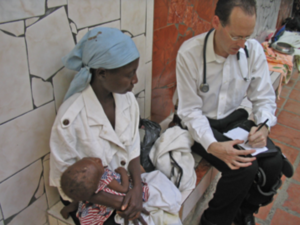 The Co-Founder and Chief Strategist of Partners In Health will also be remembered as Chair of the Department of Global Health and Social Medicine at Harvard Medical School, and Chief of the Division of Global Health Equity at Brigham and Women's Hospital.
Above all else, Dr. Farmer will always be recognized as a guiding light who effectively changed the field of medicine as we know it. The global health and social justice pioneer leaves behind a legacy that eradicates inequities, touches countless lives, and inspires generations of caregivers to come… including some of our global health heroes.
Samer Jaber, MD
"Paul Farmer was truly a giant in global health, and his radical belief that all are deserving of excellent medical care, brought high quality medical care to some of the most vulnerable people across the world and inspired so many to pursue a career in global health.
"Global health has improved considerably since Partners in Health was founded in 1987, but many challenges remain. The COVID pandemic has highlighted the great disparities in medical care globally, so it is imperative we improve access to cutting edge medicines/vaccines, improve training to local health care professionals, and leverage technology to make an impact to those fortunate."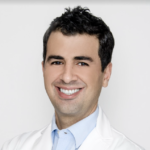 Samer Jaber, MD, is a board-certified dermatologist and an Assistant Professor of Dermatology at Icahn School of Medicine at Mount Sinai. Driven to provide transformative comprehensive care, Dr. Jaber founded Washington Square Dermatology, where he enjoys supporting a diverse patient population that spans all ages and ethnicities. His early career was characterized by a prestigious Clinical Research Training Program fellowship with the National Institutes of Health. He has been acknowledged on many "Best Doctor" lists, received multiple teaching awards, and was selected as a New York Times "Super Doctor Rising Star." Dr. Jaber spends a great deal of time volunteering both locally and abroad, and proudly serves on the board of ShelterBox USA, and as a founding advisory board member for the Vaseline Healing Project, an international health project aimed to improve the skin health of those suffering from refugee or crisis situations.
Angelo Leto Barone, MD
"As members of the global medical community, it is part of our mission, as well as our privilege and duty, to care for those in need of our service. Our purpose as physicians is to deliver the promise of medicine to adults and children around the world, especially to those in underserved and resource-poor areas. Dr. Farmer's pioneeristic work is inspirational and worth remembering to provide a guiding light to the future generations of healers."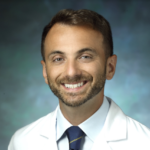 Angelo Leto Barone, MD, is an internationally educated plastic surgeon, inventor, and entrepreneur. Currently a craniofacial and pediatric plastic surgery fellow at Cincinnati Children's Hospital, h
is research and clinical areas of focus span transplant immunology, stem cell biology, medical device design, and international medicine.
Dr. Leto Barone is Co-Founder and Chief Medical Officer of ReconstratA, an innovator of user-friendly engineering solutions and initiatives to advance healthcare worldwide. He pioneered a novel technique for ear reconstruction, and developed and patented the device to make it possible, AuryzoN. Passionate about eradicating disparities in care, he is also the Co-Founder and President of Reconstruct Together, supporting humanitarian missions and initiatives to deliver life-changing reconstructive medical care to patients worldwide. 
Andrew McCrary, MD, MSc-GH
"During a brief conversation at my college's commencement, Dr. Farmer, first, congratulated me on upcoming medical school but then he moved his concern to the plight of a large public county hospital serving the metro community. He implored me, 'We have to keep Grady open.' His passion for the health and care of marginalized populations wherever he went continues to inspire me years later in my local and global work.
"I have continued research initiatives focused on the cardiac care of children with perinatally-acquired HIV, based in Eldoret, Kenya with Moi University and AMPATH."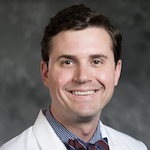 Andrew W. McCrary, MD, MSc-GH, is a board-certified pediatric cardiologist at Duke Children's Hospital, and an Assistant Professor of Pediatrics at Duke University School of Medicine. Dr. McCrary is driven to improve the health of children with acquired and congenital heart disease — locally and globally — through capacity-building research. He has specific interest in the non-invasive assessment of cardiac function in at-risk populations, has collaborated with industry to innovate ultrasound technology, and spent a year in Western Kenya managing a 600-patient study of cardiac dysfunction in children and adolescents with HIV. It was during this time that he developed expertise in advanced cardiovascular imaging, epidemiology, and ethical and quantitative research methodologies, and also served as a general pediatrician. Dr. McCrary is a clinical leader with a keen understanding of policy at local and national levels, which he is able to marry with global health training to understand implications for healthcare delivery across the world. 
Ayòbámi Olúfadéjì, MD, MBA
"Over the last decade, it has been exciting to see the increasing number of people interested in global health, choosing to volunteer their time abroad. While this is a positive trend, I still find that there are gaps in the work that is being done to make sure that we are able to build health systems that stand the test of time. We need to continue to push the barrier to innovate in care delivery models that provide sustainable and quality access to care for underserved populations whether they are in rural parts of America or Africa. I'm looking forward to seeing how the rapid adoption of technology in the developing world helps to accelerate innovations in our models of care delivery. "

Ayòbámi Olúfadéjì, MD, MBA, is an Ivy League educated and board-certified emergency medicine physician at Beth Israel Deaconess Medical Center, where he also served as Associate Director of Ambulatory Emergency Medicine. Additionally, as a Regional Clinical Director for Carbon Health, he oversees clinics in Kansas, Missouri, Texas, Alabama, and Florida. Dr. Olúfadéjì is passionate about improving healthcare access for medically underserved populations, and is driven to leverage new technologies in the chronic management of diseases and redesign of emergency care delivery. He has extensive entrepreneurial leadership experience, currently as Co-Founder of Digital Health Nigeria — a grassroots initiative aimed at developing digital health in Nigeria — and previously as Co-Founder and Managing Director of the Athari Fund and Founder of WeBelieve Health. 
Nicholas Risko, MD, MHS
"Despite decades of recognition, effort, and resources,  global health disparities remain one of the greatest challenges of our time. While the big picture is daunting and discouraging, every incremental improvement has a real impact. Keeping a focus on the small successes, the personal stories and the lives saved is what keeps me inspired to push on."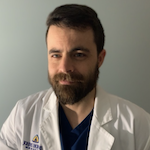 Nicholas Risko, MD, MHS, is a board-certified emergency medicine physician. He serves as Residency Site Director at Howard County General Hospital and Assistant Director of the Johns Hopkins Center for Global Emergency Care. Passionate about improving access to high quality emergency care around the world — especially in low-resource settings — Dr. Risko has experience partnering with UNICEF and the World Health Organization on international vaccine access, leading educational efforts from Brazil to Mozambique, consulting with USAID on critical care capacity, and driving global health policy at a systems level. He has been on the frontline of the COVID-19 epidemic, caring for all levels of acuity in addition to managing associated infrastructure demands.
---
February 28, 2022
Michelle Higginson